Relieve your pain and save your natural tooth.
---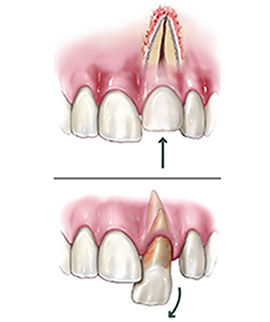 A dislodged, tooth is one that has been partially pushed into or out of its socket, or sideways, during an injury. If this has happened to you, see your dentist or endodontist as soon as possible to stabilize the tooth.
A dislodged tooth that is a permanent tooth usually requires a root canal treatment and should be started a few days following the injury. Medication can be placed inside the tooth as part of the treatment and your endodontist or dentist will monitor your tooth carefully until healing occurs.
Children between seven and 12 years old may not need root canal treatment since their teeth are still developing. New research indicates that stem cells present in the pulps of young people can be stimulated to complete root growth and heal the pulp following injuries or infection. Your endodontist can talk with you about regenerative treatment options.
---
---
What an Endodontist Treats
---
Treatments By Endodontist